What is it?
The SUBMERSE project is a consortium of European and global partners, supported by the European Union's Horizon Europe programme, which launched in early May the "SUBMarine cablEs for ReSearch and Exploration" (SUBMERSE) programme, aiming to make available to the scientific community, civil society and industry, data from continuous observations on several submarine fibre optic cables, using a standardized technological configuration on a continental scale.
What areas of knowledge can benefit from the project?
The three-year project will contribute to research and innovation in various scientific and social areas, such as geo-risks, early warning and forecasting of earthquakes, volcanoes and tsunamis, and the detection and protection of marine life.
In the scientific domain, SUBMERSE will support innovation in basic and applied research through the development of standardized high-tech research instruments; in the social domain, it will increase knowledge between academia, industry and the general public, and raise awareness about socio-environmental issues. Similarly, in the economic and industrial domains, research infrastructure will increase industry competitiveness and drive science-based economic growth, while in the environmental dimension, it will increase understanding of marine ecosystems, leading to resilient and sustainable environments.
How did the project come about?
Scientific experimentation has shown that fiber optic cables deployed on the seabed are a robust and stable technology that can be used as sensors for monitoring the Earth and its systems, as an alternative to other types of sensors (sonars, seismographs, etc.) that are often expensive, time consuming, and have a shorter lifetime.
Technologies such as polarization state detection (SOP) and digital acoustic sensing (DAS) systems detect electromagnetic waves, vibrations, and other changes in parameters around a fiber-optic cable, and through advanced data processing, quality information is obtained at lower cost and higher speed.
Research Infrastructures, together with several National Research and Education Networks (NRENs) and partners from universities, research institutions and industry entities in Europe, have been pioneering techniques to use undersea optical fibers for research. However, until now, experimentation in these areas has been conducted in specific geographic locations, with limited durations, types of technologies used, and levels of technology readiness varying significantly, making comparability difficult. In addition, data results were generally not publicly available.
SUBMERSE aims to overcome these gaps by promoting ubiquitous and continuous access to reliable, high-quality underwater fiber optic scientific data on a continental scale, integrating advanced monitoring technologies and techniques not previously achieved, and promoting the creation of new applications and research opportunities in Earth sciences.
What are the main objectives of Submerse?
The project's main goal is to create a Research Infrastructure that will, for the first time, allow researchers to perform a variety of observations in multiple geographic locations, providing FAIR(Findable, Accessible, Interoperable, and Reusable) compliant datasets in near real time using machine learning.
The project will build a research and proof-of-concept instrument deployed in the North and South Atlantic and the Mediterranean. This new world-class research instrument integrates the existing NREN and EPOS (European Plate Observing System) infrastructures, as well as the Copernicus Marine service of three European nations, as well as pan-European and pan-American institutions, to disseminate SOP and DAS data, in accordance with FAIR principles, collected from the same submarine optical telecommunication fibers already installed and active.
What impacts are expected?
This instrument will serve as a model for continuous monitoring of many more cables in the future, leading to the opening of new market opportunities and demonstration of methods to maximize investments in research infrastructures. It will also impact the integration of regional and national research infrastructures and provide innovative scientific methods and tools, thus enabling new cutting-edge services and long-term datasets of unique scientific value.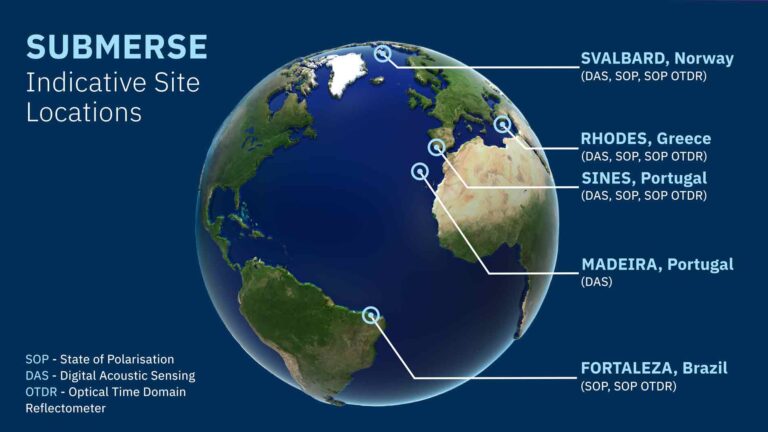 Which entities coordinate the project?
The SUBMERSE project will be coordinated by Efis Centre (European Centre for Future Innovation Systems) and implemented with the support of a consortium of 24 partners, which together represent great strength and experience in the implementation and operation of large networks. The consortium brings together technical organizations, research infrastructures and industry, with interdisciplinary knowledge and expertise, which will provide access to the infrastructure needed for the implementation of the proposal.
SUBMERSE Partners
GEANT VERENIGING [GEANT],with legal address HOEKENRODE 3 po box 100, 1102 BR, AMSTERDAM, Netherlands

GEORGIAN RESEARCH AND EDUCATIONAL NETWORKING ASSOCIATION [GRENA] with legal address 10 CHOVELIDZE STREET, 0108, TBILISI, Georgia

INSTYTUT CHEMII BIOORGANICZNEJ POLSKIEJ AKADEMII NAUK [PSNC], with legal address NOSKOWSKIEGO 12-14, 61 704 , POZNAN Poland
CESNET ZAJMOVE SDRUZENI PRAVNICKYCH OSOB [CESNET], with legal address ZIKOVA 4, 160 00 , PRAHA 6 Czechia
NATIONAL INFRASTRUCTURES FOR RESEARCH AND TECHNOLOGY [GRNET SA], with legal address LEOFOROS KIFISIAS 7, 11523 , ATHINA Greece
ELLALINK IRELAND LIMITED [EllaLink], with legal address 23-25 BAGGOT STREET UPPER, D04 Y7T1 , DUBLIN Ireland
NORDUNET A/S [NORDUNET A/S], with legal address KASTRUPLUNDGADE 22 1, 2770 DK003 , KASTRUP Denmark

DANMARKS TEKNISKE UNIVERSITET [DTU] with legal address ANKER ENGELUNDS VEJ 101, 2800, KONGENS LYNGBY Denmark
SIKT - KUNNSKAPSSEKTORENS TJENESTELEVERANDOR [SIKT] with legal address ABELS GATE 5A 7030 , TRONDHEIM Norway

ETHNIKO ASTEROSKOPEIO ATHINON [NOA], with legal address LOFOS NYMFON, THISSIO, 11810, ATHENS Greece
CORIANT R&D GMBH [CORIANT R&D], with legal address ST MARTIN STRASSE 76, 81541 , MUNCHEN Germany
HELLENIC CENTRE FOR MARINE RESEARCH [HCMR], with legal address LEOFOROS ATHENS SOUNIO 46 7KM, po box: 712, 19013 , ATTIKIA ANAVISSOS Greece
UNIVERSIDAD DE ALCALA [UAH], with legal address PLAZA DE SAN DIEGO, 28801 , ALCALA DE HENARES/MADRID Spain
HELMHOLTZ ZENTRUM POTSDAM DEUTSCHESGEOFORSCHUNGSZENTRUM GFZ [GFZ], with legal address TELEGRAFENBERG, 14473 , POTSDAM Germany
FCIENCIAS.ID - ASSOCIACAO PARA A INVESTIGACAO E DESENVOLVIMENTO DE CIENCIAS [FC.ID], with legal address CAMPO GRANDE, EDIFICIO C1, PISO 3, 1749 016 , LISBON Portugal
13.1 FACULDADE DE CIENCIAS DA UNIVERSIDADE DE LISBOA [SCIENCAS] with legal address CAMPO GRANDE C5 PISO 3, 1749-016, LISBON Portugal
INESC TEC - INSTITUTO DE ENGENHARIAD SISTEMAS E COMPUTADORES, TECNOLOGIA E CIENCIA [INESC TEC], with legal address RUA DR ROBERTO FRIAS CAMPUS DA FEUP, 4200 465 , PORTO Portugal
E-SCIENCE EUROPEAN INFRASTRUCTURE FOR BIODIVERSITY AND ECOSYSTEM RESEARCH [LIFEWATCH], with legal address PLAZA DE ESPANA S/N, SECTOR II-II, 41071 , SEVILLA Spain
NORGES TEKNISK-NATURVITENSKAPELIGE UNIVERSITET NTNU [NTNU], with legal address HOGSKOLERINGEN 1, 7491 , TRONDHEIM Norway
ALCATEL SUBMARINE NETWORKS SAS [ASN], with legal address ROUTE DE VILLEJUST, 91620 , NOZAY France
UNIVERSITETET I BERGEN [UiB], with legal address MUSEPLASSEN 1, po box: 7800, 5020 , BERGEN Norway
FUNDACAO PARA A CIENCIA E A TECNOLOGIA [FCT] with legal address AVENIDA D CARLOS I 126, 1249 074, LISBOA, Portugal
COOPERACIÓN LATINOAMERICANA DE REDES AVANZADAS [RedClara] with legal address RAMBLA REPÚBLICA DE MÉXICO 6125, 11400 MONTEVIDEO, URUGUAY