The 9th Research Data Management Forum will take place on November 24th and 25th at the University of Évora. Registrations are already open, reserve your place now.
In this 9th GDI Forum, which will be held in person at the University of Évora, we will follow the model of previous editions, with a program spanning two days, between 11:00 am on November 24 and 5:00 pm on November 25. The program includes technical workshops, flash talk sessions for demonstration and presentation of projects and best practices, a data café, and a panel discussion on emerging themes.
The annual event of the GDI Forum aims to bring together and energize the community of professionals and researchers involved in activities supporting the management of research data in order to develop technical skills, capitalize on knowledge and practices, and promote knowledge about national initiatives.
It is a capacity-building and discussion space for sharing ideas, emerging initiatives, projects, and best practices in support of research data management that seeks to bring together digital repository and data center managers, information technologists, library, archive and data curators, informatics specialists, researchers, data scientists, and science managers from research institutions and science funding bodies.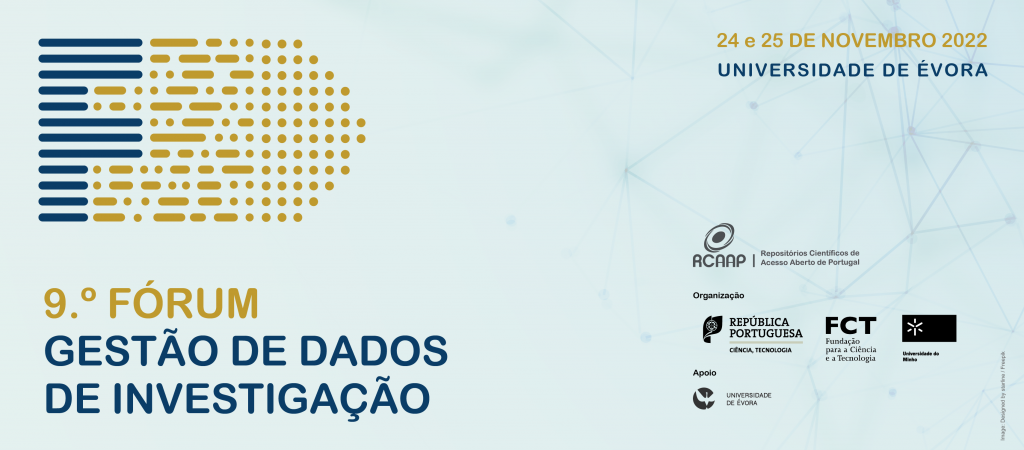 All interested parties are invited to submit proposals for presentations (flash talks) until October 20.
The "flash talks" session has as main objective the presentation of emerging initiatives, best practices and projects associated with supporting research data management.
More information is available on the submissions page on the event website. 
Join the GDI FORUM and contribute to the mobilization and empowerment of a practical community that supports data management activities in research institutions in Portugal.

Follow all the activity in the social networks:
The 9th GDI Forum is organized by the Secretary of State for Science, Technology and Higher Education, FCT-FCCN - Foundation for Science and Technology through its FCCN Unit and the University of Minho, promoted within the activities of RCAAP - Open Access Scientific Repositories of Portugal.

IMPORTANT DATES
Submission period: August 10 to October 10
Notification of flash talk proponents: October 20
Participant Registration: August 10 - November 20
Holding of the 9th GDI Forum: November 24th and 25th