A commitment to the future
"Using ICT in a smart way, promoting sustainability, is strategic to the mission of FCCN and its employees", says João Nuno Ferreira, FCCN General Coordinator.
This motto is at the genesis of the FCCN +Sustainable project, created by the FCT FCCN Unit, which aims to strengthen the alignment of FCCN's activity with the Sustainable Development Goals (SDGs).
The 17 SDGs define the global priorities and aspirations for 2030, assumed by the 193 countries of the United Nations in areas that affect the quality of life of all citizens of the world. For the FCCN +Sustainable project, 5 of these SDGs were selected as pillars for its implementation, namely: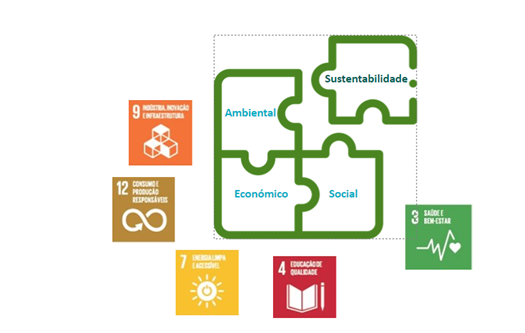 The FCCN +Sustainable project aims to adopt good environmental practices and innovative network technology as viable alternatives to sources of pollution and harmful emissions. The initiative also seeks to balance efficiency, environmental responsibility and environmental and welfare practices in a constantly evolving technological landscape. 
Recognizing its social and economic responsibility as a technological partner of the scientific and research communities, within the scope of FCCN +Sustainable, FCCN is committed to minimizing waste and carbon footprint, among other measures. The optimization of energy and material efficiency in technological services is another distinctive feature of this project, demonstrating the ambition for greater economic and ecological sustainability. 
A preliminary internal and external analysis has shown that FCCN has already adopted positive practices, indicating an upward trajectory towards a more sustainable future. Specifically, in relation to the ECO.AP 2030 program - Public Administration Resource Efficiency Program, FCCN shows good results, fulfilling about 56% of the proposed actions. The commitment extends into the future, with a forecast of compliance with another 33% of these actions. 
To further deepen the search for sustainable practices, under the FCCN +Sustainable project, FCCN conducted an internal pre-assessment questionnaire. The answers revealed measures already adopted in the work environment and in the personal lives of employees, as well as suggestions for new practices to be implemented. In general, this questionnaire confirmed that a significant portion of employees are aware of the importance of sustainability and are already involved in actions in this area. 
The FCCN +Sustainable Project demonstrates that ICT can be a driving force for a better and more sustainable future, despite being one of the sectors with the highest energy consumption and consequent impact on the environment.